How I've been clearing my acne
Acne is one of the worst things to experience. People who have never suffered from acne do not understand. Acne can lead to depression, anxiety, and other mental health side effects. For me, I feel that acne did lower my self-esteem a bit and I didn't feel like doing anything at all. Acne literally hurts physically too. Those nasty pimples that come out of nowhere and you're just there thinking "WTF?!" trying to find ways to get rid of it. It's a trial and error process to see what works and what doesn't work for your skin. You also have to be patient with your skin, which is something I am still learning to do. Everything takes time.
On August 2017 I noticed that I had a lot of clogged pores that became whiteheads. No matter what I would do or put on my face, the whiteheads would not go away. So in September, I went to my dermatologist where they prescribed me Onexton for the morning and Tretinoin for the evening. Within a few days, my skin got a hundred times worse. Tretinoin is meant to make your skin purge, but the way my skin was purging with huge painful acne. My skin went from having small whiteheads to looking like a pepperoni pizza. It was really gross. I gave the products about a month and a half of use to see if my skin would clear up. It did not get better.
Around the ending of October to the beginning of November, I stopped using what my dermatologist gave me and tried curing my acne the "natural way". These are some products and home remedies I tried that did not work for my skin:
Aztec Secret Indian Healing Clay with Apple cider vinegar. This made my skin breakout every time I used it. I read so many great reviews about this product, but my skin did not react well to it.
Apple Cider Vinegar Toner. I used this every night before going to bed for 3 months. I mixed the ACV with water. It was okay on my skin for a while then started to irritate my skin.
Tea Tree Oil as a spot treatment. I tried adding the tea tree oil on new pimples to see if the swelling would go down, or if it would go away completely. My skin must be too sensitive to this because it would just leave my skin irritated.
Honey Mask. I love honey! I would apply organic honey as a mask for 30 minutes to clear up the dark acne scars. I ended up getting more whiteheads and pimples.
Potato Skin and Juice. I tried this as a mask a few times. I did not like how the potatoes would turn dark while on my face. I didn't see any difference in my skin.
This is how my skin was after I began using the acne medication and during my curing my acne "natural" phase. The right side of my face is where I had 90% of my acne.
After trying these natural home remedies, I noticed I had to change up my diet a bit. In December 2017, I stopped eating all greasy, fried foods and avoided sugar intake. I added a gummy multivitamin to my diet and MORE WATER. Water helps your skin in so many ways. My skin improved remarkably after these slight changes.
Once I gave up on the natural home remedies, I decided to try out these products which saved my life!
St. Ives Apricot Blemish Control Scrub. This scrub has saved my skin so much!! My boyfriend recommended this product to me. I use this scrub almost every day. This scrub has helped clear up a lot of my acne scars as well as prevent new breakouts. The scrub contains 2% salicylic acid which helps acne prone skin.
St. Ives Blackhead Clearing Green Tea Scrub. This product is a gentle scrub. I like to use the green tea scrub in the mornings. This product also helped fade away my dark acne scars. The green tea scrub also helps calm the redness on my face.
Onexton. I used this product for years and my skin reacted really well to it, so I decided to give it another shot.
Cetaphil Dermacontrol Oil Control Moisturizer SPF 30. This Cetaphil SPF moisturizer is lightweight and does the job without clogging my pores.
Cetaphil Facial Hydration Lotion. I use this in the night time to keep my skin moisturized. For a while, I was using the Cetaphil Face & Body Moisturizing Lotion, but I DO NOT recommend using that for your face. It caused more build up and created more problems for my skin. The facial hydration lotion is best since it is just for the face and super lightweight.
Lush Mask of Magnaminty. This mask is heaven. I use it about 1-2 times per week. This mask has helped my skin with little stubborn pimple or whiteheads. Leaves my skin feeling extremely refreshed!
These pictures below you can see how my face started to clear up once I started using these products. From November up to March before the Vi Peel. You can see how much my skin got sooo much better.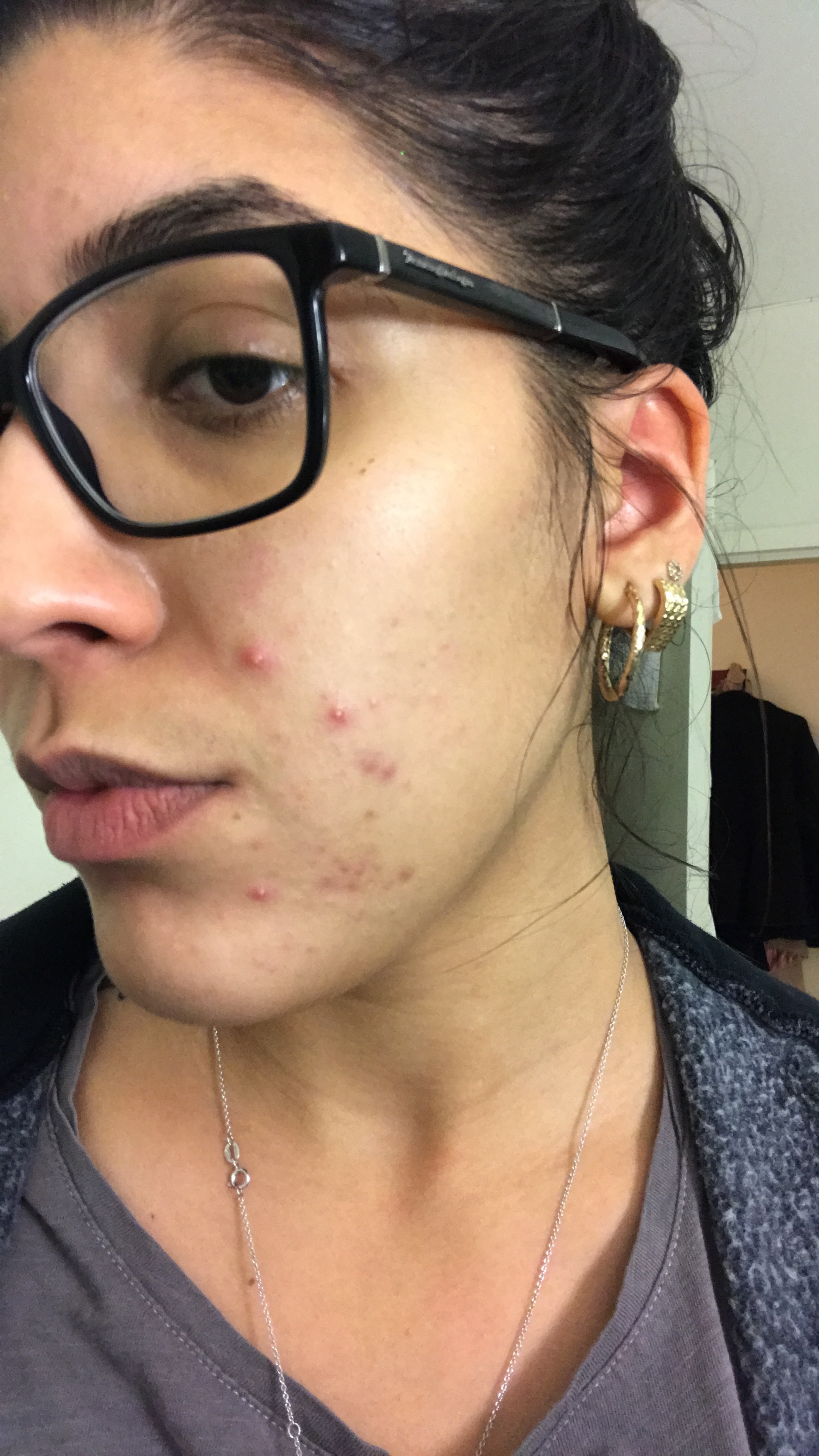 Using all of these products consistently has helped my skin tremendously. Aside from my dietary change, here are a few things everyone should know about basic hygiene that helps prevent acne.
I change my pillow cases often. I only sleep on one side of a pillowcase one time. I have two pillows so I get 4 nights of use before switching them out. It is important to change your pillowcase because the oils from your skin and your hair get all over the pillowcase, then back to your skin causing new breakouts.
I clean my makeup brushes frequently. Lately, I haven't been using any makeup, but when I do I wash all my brushes after every two uses. I use a beauty blender which I like to switch out every 6 months.
I wash my face 2 times a day and some days even up to 3 times a day. It is important to keep your skin clean.
I try not to touch my face throughout the day. This is still a struggle for me as an adult. You never know what germs are under your nails or hands before you touch your face.
This is how my askincurrently looks today.
All of these things have helped my skin get closer to where I want it to be. There were times where my acne was much worse than the pictures I posted on here, it was painful and sometimes it would bleed. But the important thing is that I found something that works for my skin. Now I am currently working on removing my acne scars which is another process. The Vi Peel also helped fade my dark acne scars. I will continue to keep you guys up to date on my little journey to clearer skin!
 
xoxo- Liza